The ABCA was founded in 1983 by a group of Border Collie breeders who wanted a democratic nonprofit organization to keep accurate records of working Border Collie bloodlines. The following is an account of the events and people involved: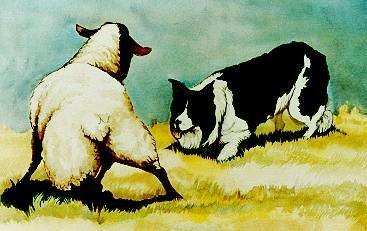 After spending several months in 1982 assessing the need and identifying support for a member-owned, democratically run Border Collie registry, the supporters decided in mid-October in Jackson, Mississippi, to establish a new registry, to be called the American Border Collie Association, Inc. Bill Dillard from Matthews, Alabama, president of the Southern Stockdog Association and editor of the Southern Stock Dog Journal, and Ralph Pulfer from Quincy, Ohio, secured commitments and financial support for the new registry from Border Collie breeders, owners, and handlers in the United States and Canada. Leroy H. Boyd of Starkville, Mississippi, prepared the draft documents containing proposed bylaws and operating procedures. Bill Ready of Meridian, Mississippi, then incorporated the registry in Delaware. Raymond MacPherson from Brampton, Cumbria, England, provided copies of the International Sheep Dog Society Stud Book for the registry's use.
The eleven charter Directors were: Bill Dillard, Alabama; Ralph Pulfer, Ohio; Leroy Boyd, Mississippi; Inez Schroeder, Arizona; Peggy Brown, South Dakota; Omar Falk, Oregon; Stan Moore, Tennessee; Guido Lomabardi, California; Edgar Gould, Massachusetts; Bob Childress, Texas; and Jim Clark, Ontario. On April 14, 1983, a Directors meeting and election of officers was held on the campus of Mississippi State University. Bill Dillard was elected President, Ralph Pulfer was elected Vice-president. Other Directors present for the meeting were Boyd, Moore, Lomabardi, Gould, and Clark. Mrs. Jerry West, Red Banks MS, Secretary of the Southern Stock Dog Association, who owned and operated a real estate business and tax service in Holly Springs, Mississippi, assumed the responsibilities of the first Secretary of the ABCA, Inc. The ABCA was incorporated on June 10, 1983 and received IRS non-profit 501(c)(5) status in March 1993.